About Us
NATURAL, SPECIAL, UNIQUE
Cork Eco-friendly & Vegan Fashion 
Montado is owned by a company that has more than 40 years of experience in the market. Our origins are Portuguese but our destiny is the world ... for a greener and sustainable Planet. We are a community brand of environmentally friendly fashion products, produced with a raw material of absolutely unique properties, our beloved cork: 100% natural, renewable and biodegradable; 100% lovely, distinctive and trendy. With cork we create bags, wallets/purses, shoes and many other fashion accessories of premium quality and contemporary design that allow you to state your environmental values without sacrificing elegance and personal style. Additionally, a significant and growing part of the items that make up our collection are also Vegan-friendly – 100% free from any animal product.
As Portuguese, cork is an integral part of our culture, our DNA, a legacy we want to share with you.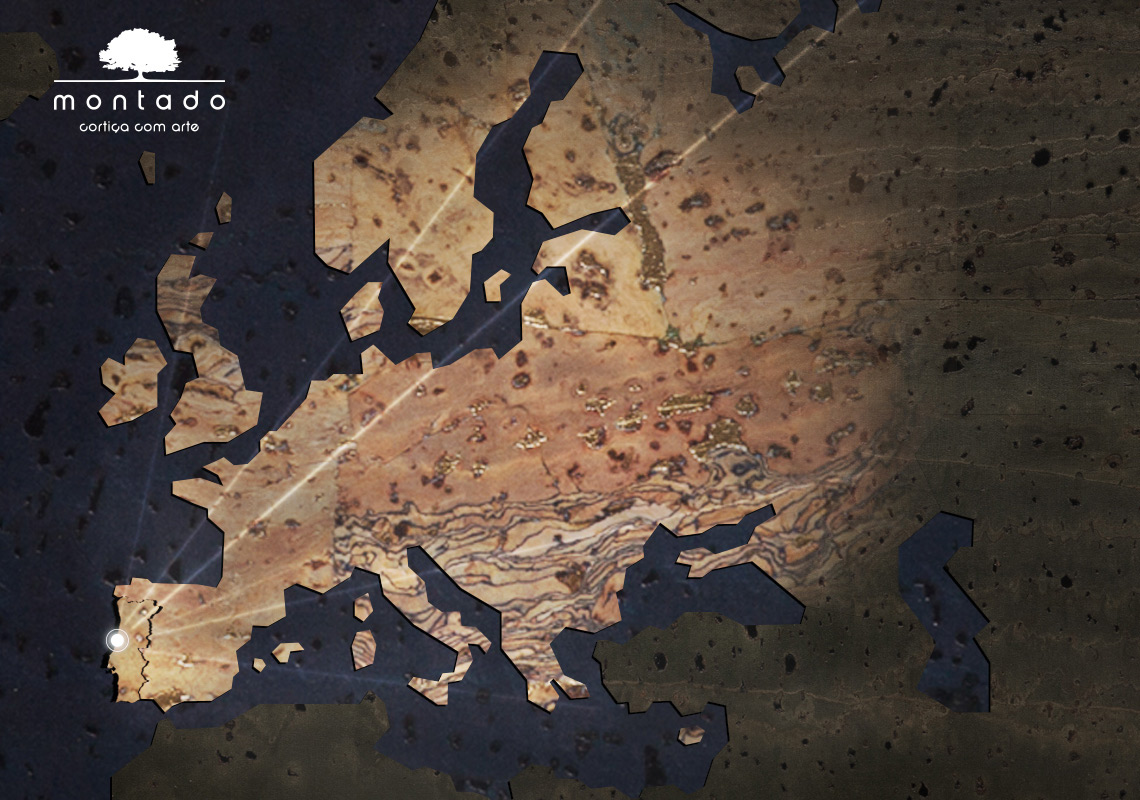 From Portugal to the world... with love.
The Montado that inspired our name is an ecosystem made up of fragile cork oak forests that survive only in some areas of the Mediterranean, but above all in Portugal and Spain. Cork is the bark of this magnificent tree, classified as Portugal's National Tree since 2011. Portugal has the largest cork oaks extension in the world (33% of the world's area) and it is the world's largest cork exporter. Cork trees are legally protected; cutting them is prohibited throughout the territory.
The cork we use to make our bags and other products is extracted from cork oaks every nine years without damaging the health of the tree. Actually, the tree benefits from this process. Each cork oak has a history, all cork sheets feature variations of pattern, color and texture. Each fashion cork item does too. They are all different.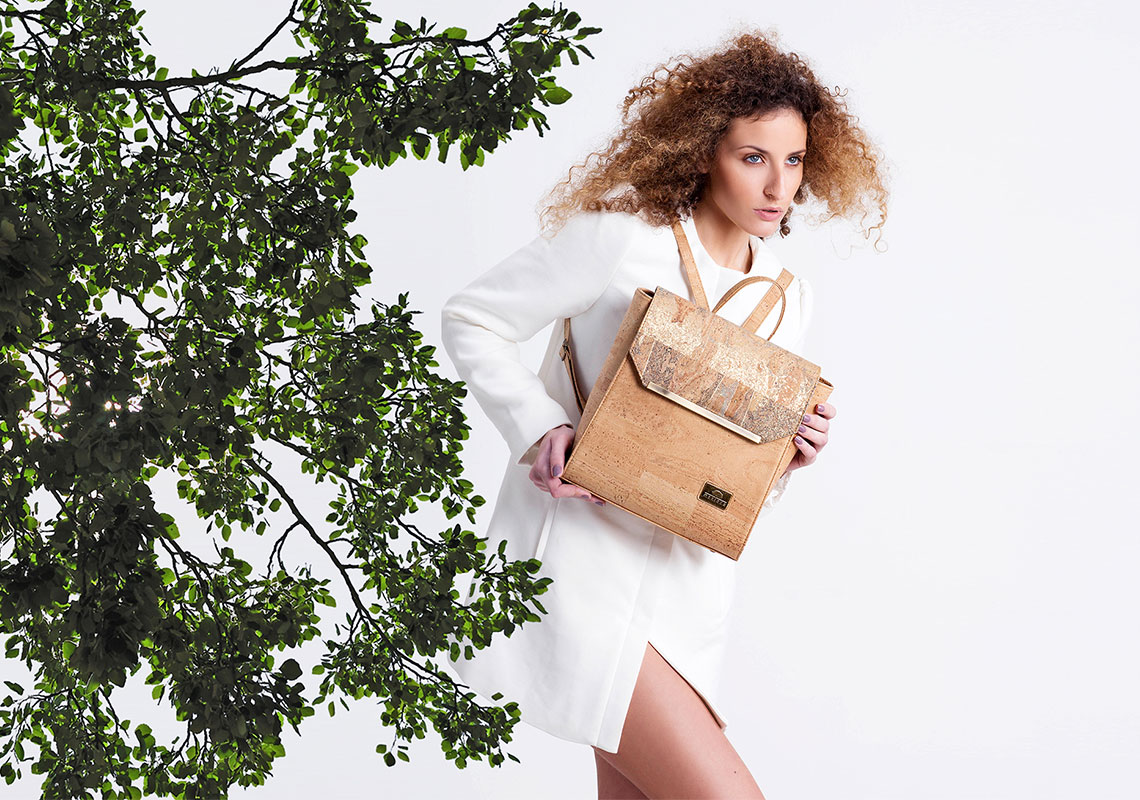 Cork Bags, Wallets, Purses, Footwear... with style.
Choosing cork fashion products is certainly a statement ... but not only. It is much more than that! Cork is a premium material. Several tried to replicate it by industrial and technological processes. They failed. All of them. Miserably.
What other material is simultaneously 100% natural, elastic, waterproof, hypoallergenic, fire retardant resistant, durable, stunningly beautiful, and unique to every piece and so soft to the touch? We do not know any another. And if it does exist we can't be bothered: we are in love with this, cork. Each person at Montado is. Our team of distinguished and young designers loves to create for it and in production is in experienced hands that have been working cork for a lifetime. The result? Cork bags, wallets/purses, shoes and other products that we consider magnificent ... but that speak for themselves.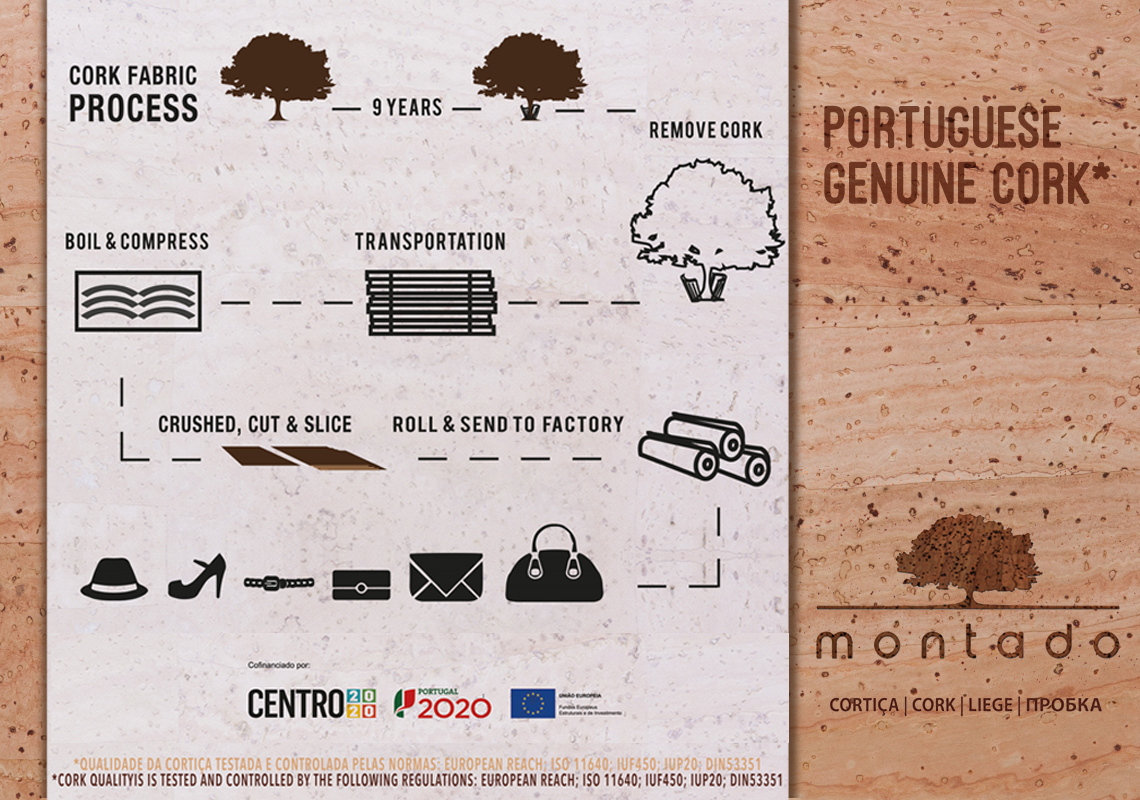 For Professional and Personal use... with professionalism.
Faced with the usual choice between selling our cork 100% natural (and mostly Vegan) in fashion products directly to the end consumer or to a network of distributors and retailers, we have decided on a third way: to make them accessible to both.
That's why we created this online platform where: 1) professionals can create a business account; 2) All those in love with cork fashion products and concerned about the environment can directly buy our bags, wallets, purses, shoes and other products.
Whatever your profile, we want you to have a 100% satisfactory shopping experience. For any question please contact our customer service at geral@montado.pt.